Almost daily, I am asked for my thoughts on where rates are heading. It could be from buyers at showings or community members at the supermarket or hockey moms and dads in the stands at the rink. With real estate such a trending topic, and my strong love for talking real estate widely known, it comes as no surprise that this is a topic people are interested in learning more about.  While I don't have a genie in a bottle what I do have is a natural curiosity and desire to always learn more about our economy, real estate, and how it affects our local markets. Studying the market daily is what I do and listening to real estate podcasts, reading blogs, our local newspaper, and following trusted and reliable news sources and influencers in real estate is how I feed the "mental engine."  Just yesterday I spent 20 mins in a driveway outside a house I had shown to buyers and their dad, discussing the very topic unpacked below and I loved every minute of it. So where are mortgage rates going???
Here is The Top Indicator if You Want To Know Where Mortgage Rates Are Heading
Mortgage rates have increased significantly since the beginning of the year. Each Thursday, Freddie Mac releases its Primary Mortgage Market Survey. According to the latest survey, the average 30-year fixed-rate mortgage has risen from 3.22% at the start of the year to 3.55% as of last week. This is important to note because any increase in mortgage rates changes what a purchaser can afford. To give you an idea of how rising mortgage rates impact your purchasing power, see the table below: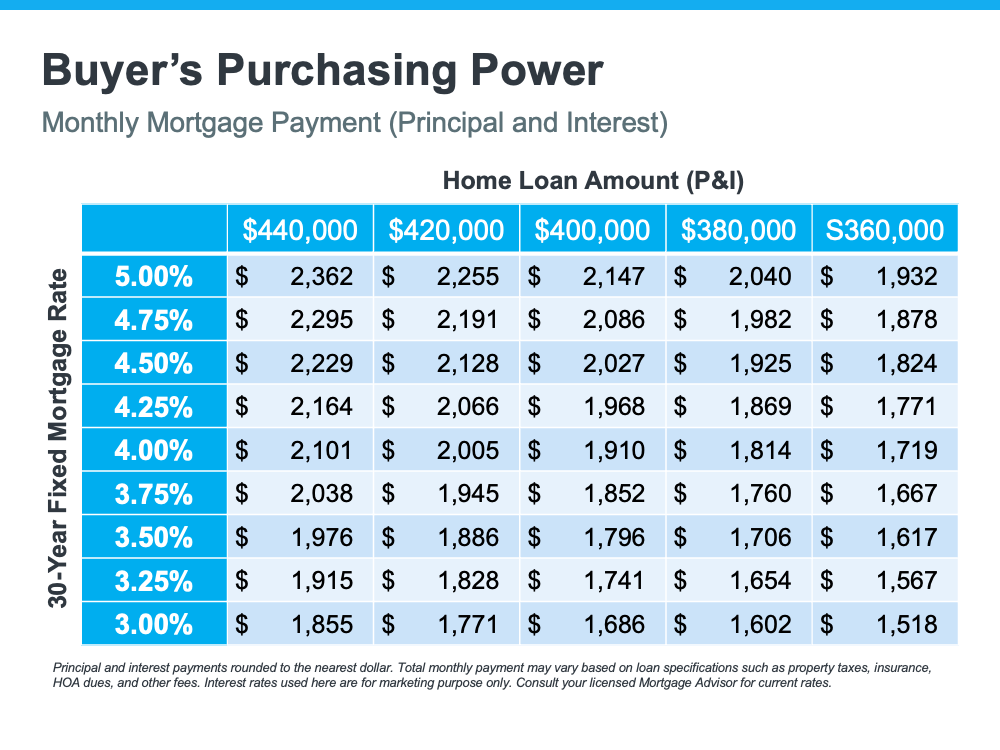 How Can You Know Where Mortgage Rates Are Headed?
While it's always difficult to know exactly where mortgage rates will go, a great indicator of where they may head is by looking at the 50-year history of the 10-year treasury yield, and then following its path. Understanding the mechanics of the treasury yield isn't as important as knowing that there's a correlation between how it moves and how mortgage rates follow. Here's a graph showing that relationship over the last 50 years: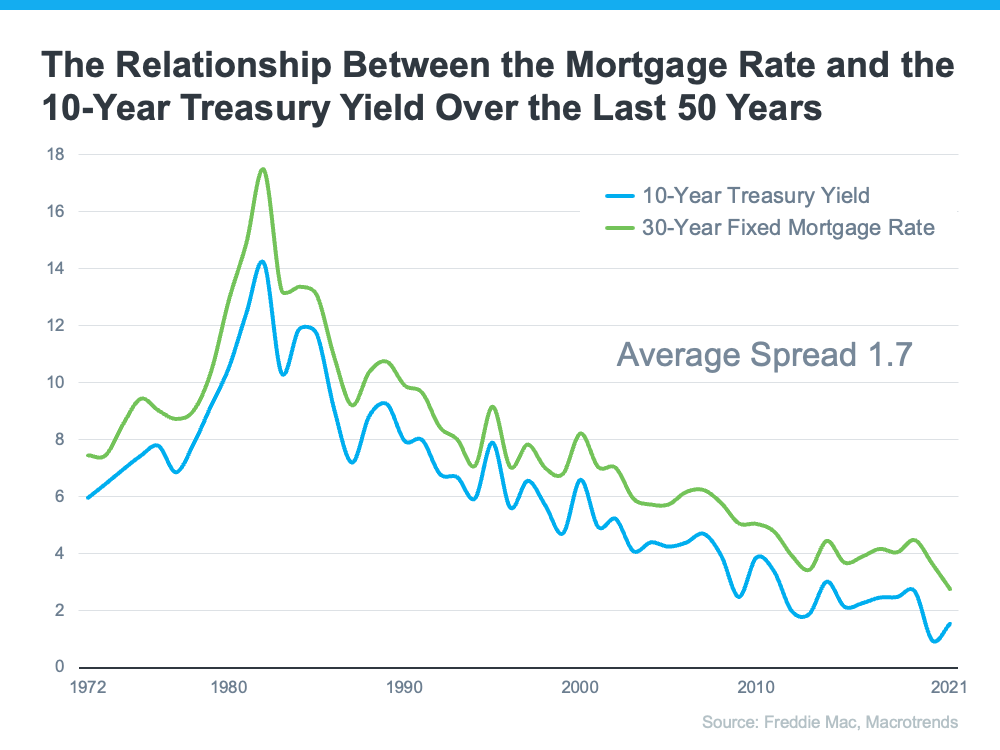 This correlation has continued into the new year. The treasury yield has started to climb, and that's driven rates up. As of last Thursday, the treasury yield was 1.81%. That's 1.74% below the mortgage rate reported the same day (3.55%) and is very close to the average spread we see between the two numbers (average spread is 1.7).
Where Will the Treasury Yield Head in the Future?
With this information in mind, a 10-year treasury-yield forecast would be a good indicator of where mortgage rates may be headed. The Wall Street Journal just surveyed a panel of over 75 academic, business, and financial economists asking them to forecast the treasury yield over the next few years. The consensus was that experts project the treasury yield will climb to 2.84% by the end of 2024. Based on the 50-year history of following this yield, that would likely put mortgage rates at about 4.5% in three years.
While the correlation between the 30-year fixed mortgage rate and the 10-year treasury yield is clear in the data shown above for the past 50 years, it shouldn't be used as an exact indicator. They're both hard to forecast, especially in this unprecedented economic time driven by a global pandemic. Yet understanding the relationship can help you get an idea of where rates may be going. It appears, based on the information we have now, that mortgage rates will continue to rise over the next few years. If that's the case, your best bet may be to purchase a home sooner rather than later, if you're able.
Bottom Line
Forecasting mortgage rates is very difficult. As Mark Fleming, Chief Economist at First American, once said:
"You know, the fallacy of economic forecasting is don't ever try and forecast interest rates and or, more specifically, if you're a real estate economist mortgage rates, because you will always invariably be wrong."
However, if you're either a first-time homebuyer or a current homeowner thinking of moving into a home that better fits your changing needs, understanding what's happening with the 10-year treasury yield and mortgage rates can help you make an informed decision on the timing of your purchase.  If you have questions about the market or seek input on sage steps you should take to get ready to jump into our local RI or MA market, please reach on out. I simply love to help inform, guide and champion anyone and everyone seeking to sell or buy real estate!